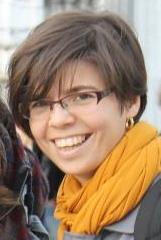 Hi, and thanks for popping by. I'm Lilla, alias Kisbogár (meaning little bug, a ladybird for me) and I'm a chocolate addict. Even after a long, hard day, I can't stop myself from melting chocolate and creating exciting new chocolates or truffles. At the moment, I'm working in a family-owned, small chocolate shop in Cambridge where I can practise my chocolate making skills everyday.
I love the smell of melted chocolate, the shine on the freshly made chocolates, the snap of the chocolate shell and the surprising kick of the salted caramel. When I make chocolate, I feel at home. It is relaxing, inspiring, it makes me happy, go wild and jolly. Time stops and flies at the same time. And the biggest reward: the satisfied sigh of the people who take the first bite.
As a translator-interpreter, I realised that for me, chocolate is a universal language that finally we all understand.
In this blog I would like to share with you everything that I experience through my love for chocolate: a book, chocolates from a famous chocolatier, a place or an event, or my own recipes.
My blog is in Hungarian at the moment, but feel free to comment and ask if you are interested in any of the recipes or reviews, I'm more than happy to get in touch and send you a translation.
///
Bonjour et merci de visiter mon blog. Je m'appelle Lilla, alias Kisbogár (coccinelle à vrai dire), et je suis accro au chocolat. Même après un long jour fatiguant, je n'arrête pas, mais je commence à fondre du chocolat et je crée de nouveaux pralines et d'autres délices. Pour le moment je travaille dans une petite chocolaterie à Cambridge, ce qui me permet de pratiquer mes compétences de chocolatière.
J'adore l'odeur du chocolat fondu, la brillance d'un nouveau praline qui vient de sortir du moule, quand le coque croque sous les dents et le caramel salé me surprend. Quand je fabrique des pralines, je me sens à l'aise. C'est ce qui me donne du bonheur, de l'inspiration, de frénésie et de la joie. Le temps s'arrête et passe vite en même temps. Et le plus grand succès : le soupir satisfait des gens qui prennent la première bouchée.
En tant qu'interprète, je trouve que le chocolat est une langue universelle que l'on peut finalement tous comprendre.
Sur ce blog, j'aimerais partager avec vous tout ce que je rencontre à travers mon amour pour le chocolat : des livres, des pralines d'un maître chocolatier, lieux ou événements, ou mes propres recettes.
Mon blog est en hongrois pour le moment, mais n'hésitez pas à commenter ou de poser des questions si vous êtes intéressés par une des recettes ou d'articles. Je vous réponds et je peux vous fournir une traduction avec plaisir.